How to Think on Your Feet
How good are you at thinking on your feet?
You meet a Chief Executive at a networking event. How do you do business with them?
You are facilitating a workshop and some smart-ass asks you a difficult question. How do you handle it?
You are leading a team of experts. How do you steer them?
You are dealing with a difficult person. How do you quickly win them over?
You are about to be mugged. What should you do next?
I have to confess that I lasted 3 weeks as a Boy Scout at the age of eleven – I got bored and took up judo instead. But I did learn one valuable lesson – Be Prepared!
Like many other skills, being prepared and practice are the key to thinking on your feet. Here are a few quick suggestions for dealing with the above situations (in order):
Chance Meeting: Prepare several 'Elevator Pitches' which you can adapt on the fly.
Smart-assed Question: If you can answer it, do. Otherwise consider a) opening the question up to the rest of the team or b) offering to handle it offline or c) simply smile, say that it's an interesting point, that you would like to give it some proper thought and come back to it later. You could also try what politicians do which is to thank the questionner, say how interesting it is and then give a completely different answer to publicise your own agenda!
Working with Experts: Have a clear and evidence-based methodology, set of frameworks and some cool tools and techniques.
Difficult People: Attend a good negotiating skills course (too complex to cover here).
Muggers: If they are dangerous give them what they want (i.e. the 'light' muggers wallet you carry when you use public transport). If they are harmless tell them to go to hell!
Your life is infinitely more complex than this and you probably face a wide range of different challenges. Think them through. Prepare in advance and practice if possible.
If you do this you can both handle stress better (thinking on your feet and worrying about it can be very stressful). You are also better equipped to future proof your career by seizing opportunities when you meet the right people.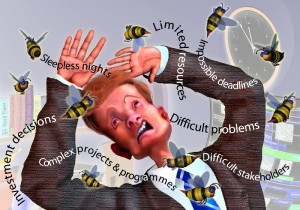 Click this link to access our growing collection of articles on stress.