Stress Reduction for Parents
As a product category there is no doubt that children are woefully faulty. They don't come with an instruction manual, a money back warranty or even an on/off switch. Kids have more faults than a Lada and governments everywhere should legislate immediately to protect the innocent and unwary!
Being a parent is a wonderful experience and we love our children to bits and yet, if we are truthful, we frequently find ourselves tearing our hair out with the difficulty of it all. Speaking personally, the younger generation are a major source of stress, up there with long hours, demanding clients and even the challenge of finding new business.
Just ask yourself the following questions. Wouldn't your life be infinitely less stressful if your delightful offspring (if you have them) regularly:
Bounced out of bed cheerfully on time, made their beds & opened the curtains
Ate a healthy breakfast and showered properly (especially teens)
Practiced their musical instruments diligently (ours are pretty good here)
Didn't leave games stuff at school (ours are dreadful in this regard)
Did their homework diligently (ours are actually rather good at this)
Came off the PC, PS3, TV, etc. cheerfully and on time (hmm…)
Enthusiastically cleared up their rooms
Were in bed, lights out and asleep on time (i.e. not feasting on illicit sweets or reading under the duvet with a flashlight)
Here are a couple of tips you may find helpful.
The first tip is to use the built-in 'Parental Control' utility on your laptop / tablet or smartphone. This basically allows you to outsource the hassle of getting your kids off the device. Beware, this functionality is not available for the PlayStation 3 which is a mistake we made in buying one of these.
The second tip is to consider adapting this spreadsheet (click here to download) for your nearest and dearest. The idea is to:
Choose with them something they would like to save towards and put it on the spreadsheet
Print a copy weekly for each child and Blu-Tack it next to the kitchen light switch
Each day tick off each item successfully completed
At the end of the week give them, say £5, for successfully completing all tasks
Any task not completed gets a 50p deduction
This normally works brilliantly with younger children. Once they are in their teens it may be too late. But it's at least worth a try…
Acknowledgements: Many thanks to Sharon Jandoo for sharing her original ideas with me and helping me develop this spreadsheet.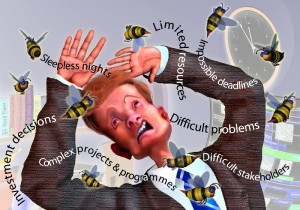 Click this link to access our growing collection of articles on stress.