Email: laura@amskills.com   Tel: +44 208 883 1423
Management as Consultancy by Sturdy, Wright & Wylie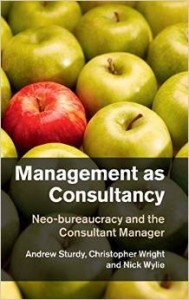 This seminal book by three business school professors presents the results of a major research programme on modern management practices. This research, conducted on two continents, shows that modern managers extensively use management consulting practices to deliver value in today's complex working world.
Management as Consultancy starts by discussing two organisational stereotypes: the Rational Bureaucratic (traditional hierarchical and rigid) and the Post Bureaucratic (flat and flexible). The authors then develop the idea that most organisations have evolved into a hybrid form which skilfully integrates their internal, external and strategic focus with operational excellence and programme delivery.
The book then explores how managers operate within this new framework and concludes that they are in fact operating as management consultants for much of the time. As consultants these managers are freed from hierarchical organisational constraints and frequently use structured consulting methodologies to deliver value as they partner with internal and external colleagues.
This book, for the first time, charts a major shift in working practices that have a profound impact on everyone working in or for large organisations. In essence, to survive and thrive in this new working environment people need excellent consulting skills such as:
Proven methodologies that deliver value in the workplace
Strategic and operational consulting skills
Stakeholder management skills
Workshop facilitation skills
The ability to spot and overcome cognitive biases affecting working practices
Like many scholarly books 'Management as Consultancy' is not a light read. However it's really worth persisting with if you wish to improve your understanding of how modern organisations work. The research is by its own admission selective and does not pretend to be fully representative of organisations or management. However both private and public sector organisations are covered and of course the nature of management practices will vary considerably by sector.
Management as Consultancy by Andrew Sturdy, Christopher Wright and Nick Wylie. Published by Cambridge University Press. ISBN: 978-1107020962
Click this link to access our growing collection of book reviews, recommendations and summaries.