Email: laura@amskills.com   Tel: +44 208 883 1423
Future Proof Your Career
Click the following link to download your free eBook titled 7 Keys to a Successful Consulting Career: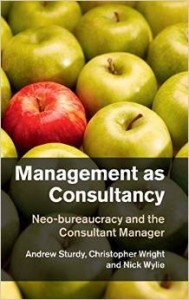 This seminal book by three business school professors presents the results of a major research programme on modern management practices. This research, conducted on two continents, shows that modern managers extensively use management consulting practices to deliver value in today's complex working world.
Management as Consultancy starts by discussing two organisational stereotypes: the Rational Bureaucratic (traditional hierarchical and rigid) and the Post Bureaucratic (flat and flexible). The authors then develop the idea that most organisations have evolved into a hybrid form which skilfully integrates their internal, external and strategic focus with operational excellence and programme delivery. Continue reading →
One of the things I enjoy most about my job is helping people take the next steps in their careers. Examples of this include helping people:
Set up as independent consultants
Switch careers into consulting (from all sorts of professional backgrounds)
Land jobs with the big consulting firms (includes LBS & Judge MBA students)
Secure their next roles following redundancy
Grow their consulting practices
A common theme in all my work is the discovery that consulting skills give people a major advantage in today's competitive workplace. This is true even for those with advanced degrees and other professional qualifications (~30% of my students have MBAs). Why is this? Continue reading →
London Business School's Professor Lynda Gratton has said employers will look for specialist skills in the coming years. Professor Gratton said that employers will be looking for "deep" skills over more general ones over the next decade. She suggested that people looking for work in 2020 will be required to have a far different set of skills than today.
Venue: London Business School. Format: 45 minute interactive presentation + Q&A
Speaker: Ellen Miller, Faculty of Organisational Behaviour
Whoever you are and whatever your aspirations, the chances are that your success is closely linked to your professional networking skills.
I recently attended a number of events on the subject. This one was particularly interesting due to the following check list which I have adapted to make it more useful: Continue reading →
Do you invest enough in developing your expertise?
OK, so you've met the requirements of your boss or client. You've done a diligent piece of work, you've interacted well with them and they seem pleased with the results. But is this enough to stop the axe falling during the next downturn (if you are employed) or cause the phone to ring with the next engagement (if you are a consultant)? Continue reading →
Creating value is the key to landing a job
Whenever a client or employer is thinking of engaging you they are placing a bet. You may have got your first job out of college purely on the basis of your hard-won degree and interview performance but thereafter you are a walking wager. Each of us carries a large invisible sign saying "Place your bets here – this guy has the potential to make or lose us a fortune!".
So how do we make ourselves attractive in a competitive world? Continue reading →
How good are you at thinking on your feet?
You meet a Chief Executive at a networking event. How do you do business with them?
You are facilitating a workshop and some smart-ass asks you a difficult question. How do you handle it?
You are leading a team of experts. How do you steer them?
You are dealing with a difficult person. How do you quickly win them over?
You are about to be mugged. What should you do next?
Professional qualifications and memberships are a proven way to increase earnings. A survey by London Economics, a well respected consultancy, found that on average professional qualifications and memberships added £152,000 to lifetime earnings. Continue reading →
Believe it or not, the most effective performance enhancing drug is free, 100% legal and available to everyone. Moreover, with the right choices and a little practice and care, most of us can use it to excel at our chosen activities. Continue reading →
…or the importance of personal appearance.
Some years ago a good friend of mine successfully applied for a job with the Essex Chapter of the Hells Angels. He did this despite not meeting any of their normal entry requirements: Continue reading →
Over the past decade the proverbial 'job for life' has virtually disappeared. Even in 'secure' professions, such as medicine, tenured positions are vanishing as short term contracts become the norm.
The big challenge facing each of us has evolved from career choice to career resilience. How can I remain attractive to potential clients and employers? In short, how can you future proof your career?
Here are some insights to help you strengthen your position in the workplace, i.e. turn your career from a verb into a noun. I hope you find them useful.