Email: laura@amskills.com   Tel: +44 208 883 1423
Consulting Profession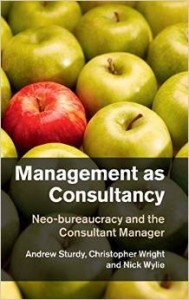 This seminal book by three business school professors presents the results of a major research programme on modern management practices. This research, conducted on two continents, shows that modern managers extensively use management consulting practices to deliver value in today's complex working world.
Management as Consultancy starts by discussing two organisational stereotypes: the Rational Bureaucratic (traditional hierarchical and rigid) and the Post Bureaucratic (flat and flexible). The authors then develop the idea that most organisations have evolved into a hybrid form which skilfully integrates their internal, external and strategic focus with operational excellence and programme delivery. Continue reading →
One of the things I enjoy most about my job is helping people take the next steps in their careers. Examples of this include helping people:
Set up as independent consultants
Switch careers into consulting (from all sorts of professional backgrounds)
Land jobs with the big consulting firms (includes LBS & Judge MBA students)
Secure their next roles following redundancy
Grow their consulting practices
A common theme in all my work is the discovery that consulting skills give people a major advantage in today's competitive workplace. This is true even for those with advanced degrees and other professional qualifications (~30% of my students have MBAs). Why is this? Continue reading →
London Business School's Professor Lynda Gratton has said employers will look for specialist skills in the coming years. Professor Gratton said that employers will be looking for "deep" skills over more general ones over the next decade. She suggested that people looking for work in 2020 will be required to have a far different set of skills than today.
What is Value Management / Value Engineering?
Value Management / Value Engineering (VM/VE) is one of the most powerful consulting methodologies ever developed. Originally formulated in the late 1940s by Lawrence Miles at General Electric and refined by many practitioners over the years, VM/VE is a powerful problem solving system designed to maximize the value of products, services, projects, business processes and organisations.
VM/VE is an evidence based methodology featuring team working, sense making, optioneering, stakeholder management and benefits realization. Skilled value practitioners are able to apply the framework to solve most organizational problems.
Our courses are registered VM/VE modules:
A physician, a civil engineer, and a consultant were arguing about which was the world's oldest profession. The physician remarked, "Well, in the Bible, it says that God created Eve from a rib taken out of Adam. This clearly required surgery, and so I can rightly claim that mine is the oldest profession in the world." Continue reading →
Chartered Management Institute
We are a fully Approved Training Centre of the Chartered Management Institute (CMI). The CMI is the UK's leading chartered professional body for professional managers, founded in 1947, and currently has over 90,000 members. The CMI offers a wide range of qualifications which ultimately lead to the Chartered Manager professional qualification.
Institute of Consulting
We are a fully Approved Training Centre of the Institute of Consulting (IoC). The CMI merged with the Institute of Consulting (IoC) in 2007. The IoC was founded as the Institute of Management Consultancy in 1962, changed its name to the Institute of Consulting in 2011 and currently has more than 7,000 members. Between them the CIM and IoC offer a range of consulting qualifications.
Institute of Value Management
We are a fully Approved Training Centre of the Institute of Value Management (IVM). The ICM is the UK's professional body for Value Management / Value Engineering (VM/VE). Click here for more information about VM/VE. Click here for more information about VM/VE qualifications. Visit www.ivm.org.uk for more details.
Value for Europe
Through the Institute of Value Management we are fully accredited to deliver training under the Value for Europe (VfE) programme. VfE was developed to improve European competitiveness by establishing standards of performance and accrediting professionals in the application of VM methodologies. Visit www.ivm.org.uk/training-value.php for more details.
ELCAS Provider Number 2653
We are a fully Approved Training Centre by the Ministry of Defence under the Enhanced Learning Credits Administration Services (ELCAS) scheme for military and ex-military people wishing wish to develop their professional skills.
Click this link to access our growing collection of articles on the consulting profession.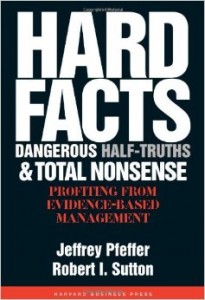 'Hard Facts' is a timely reminder that management should be based on sound scientific principles yet in the real world it is anything but. Evidence Based Management (the authors' updating of 'scientific management') is a loud wake-up call to senior executives and their consultants to apply scientific thinking whenever they launch a new business initiative.
Continue reading →
Whenever we choose a doctor, dentist or solicitor we insist on a fully qualified professional. Indeed, the thought of engaging a non-qualified person doesn't even enter our heads. Why then do clients rarely question the qualifications of their consultants or their ethics?
To find out more read my article published in the London Business School's 'Business Strategy Review'. Download your copy now.
Professional qualifications and memberships are a proven way to increase earnings. A survey by London Economics, a well respected consultancy, found that on average professional qualifications and memberships added £152,000 to lifetime earnings. Continue reading →
The consulting profession has been rapidly evolving to meet the needs of clients as their use of consultants has grown. With the advent of the Certified Management Consultant (CMC) qualification it is now evolving into a mainstream profession.
Here are a series of insights about some of the issues affecting the consulting profession. I hope you find them interesting and insightful.
Click this link to access our growing collection of articles on the consulting profession.