Email: laura@amskills.com   Tel: +44 208 883 1423
Book Reviews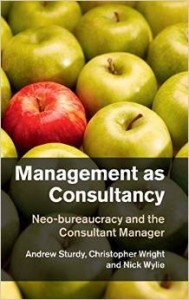 This seminal book by three business school professors presents the results of a major research programme on modern management practices. This research, conducted on two continents, shows that modern managers extensively use management consulting practices to deliver value in today's complex working world.
Management as Consultancy starts by discussing two organisational stereotypes: the Rational Bureaucratic (traditional hierarchical and rigid) and the Post Bureaucratic (flat and flexible). The authors then develop the idea that most organisations have evolved into a hybrid form which skilfully integrates their internal, external and strategic focus with operational excellence and programme delivery. Continue reading →
As a professional engineer I have long been fascinated by ergonomics, the art and science of optimising the human / machine interface. This superb book is all about how to optimise web site ergonomics and get the best possible results in terms of building your brand and attracting business. Continue reading →
Many of us watch in amazement as our pension pots stagger from one financial crisis to the next barely keeping pace with inflation. We entrust our life savings to professional fund managers to little effect. Could we do better ourselves? John Kay thinks we can and this book is a great introduction to this.
John is a well regarded economics professor (ex-LBS where I attended his excellent lectures) and his position is based on sound economic principles. His starting point is that although there are a few very good investors (e.g. Warren Buffet and George Soros), most of us (including eminent economics and finance professors) are pretty rubbish. The randomness of the market may make us feel we are skilled in the short term but over the longer term we get fairly average returns. Continue reading →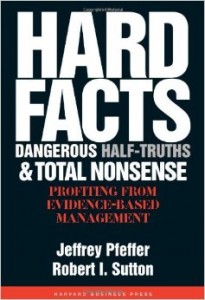 'Hard Facts' is a timely reminder that management should be based on sound scientific principles yet in the real world it is anything but. Evidence Based Management (the authors' updating of 'scientific management') is a loud wake-up call to senior executives and their consultants to apply scientific thinking whenever they launch a new business initiative.
Continue reading →
Better is a wonderful book which provides a fascinating take on improvement – a key topic for clients and consultants alike. Here are the key insights.
Better starts with the simple but profound question: "What does it take to be good at something in which failure is easy?" (despite having serious consequences such as killing people).
The book explores this question through a series of life or death medical scenarios. During these, doctors struggle with what appear to be intractable problems in which the lives of millions are at stake. Here are some of the scenarios and lessons learnt. Continue reading →
First impressions (FI) can give powerful insights into the complex situations clients and consultants face every day. FI can fast-track our thinking on key issues affecting a consulting engagement. FI can also fool us into making major / expensive mistakes.
On the positive side Blink is a readable anthology of research and anecdotes about FI. It gets one thinking about the nature of FI and the 'adaptive unconscious' – the part of our mental processes that learns how to react quickly to certain situations. Some of these mental processes are built-in (i.e. we duck to avoid a snowball). Others are learned through thousands of hours of study and practice (i.e. jazz musicianship). Continue reading →
Mark Penn is a certified guru on the subject of political polling. His famous clients include Bill Clinton and Tony Blair. He was also engaged by Hilary Clinton in the recent US presidential election where he was famously 'fired' over a conflict of interest.
This well written and researched book, probably largely penned by his co-author, provides a neat package of small-scale (<1% of the population) social trends that politicians and marketers should take note of.
Why? For two good reasons: Continue reading →
Why are some of the greatest books also the toughest reads? My theory is that they are written by boffins, professors and eccentrics. People passionate about their subject who either don't understand the poor reader or just lack a good editor.
Life is too short to plough through this stuff unless your job depends on it (mine does). Wouldn't it be nice if someone did it for you? But who is selfless or possibly crazy enough to take on such a task?
Well, here is a collection of great books I have recently read focusing purely on their payload. You get the gist without the grind!
Enjoy!
Click this link to access our growing collection of book reviews, recommendations and summaries.